Privacy Policy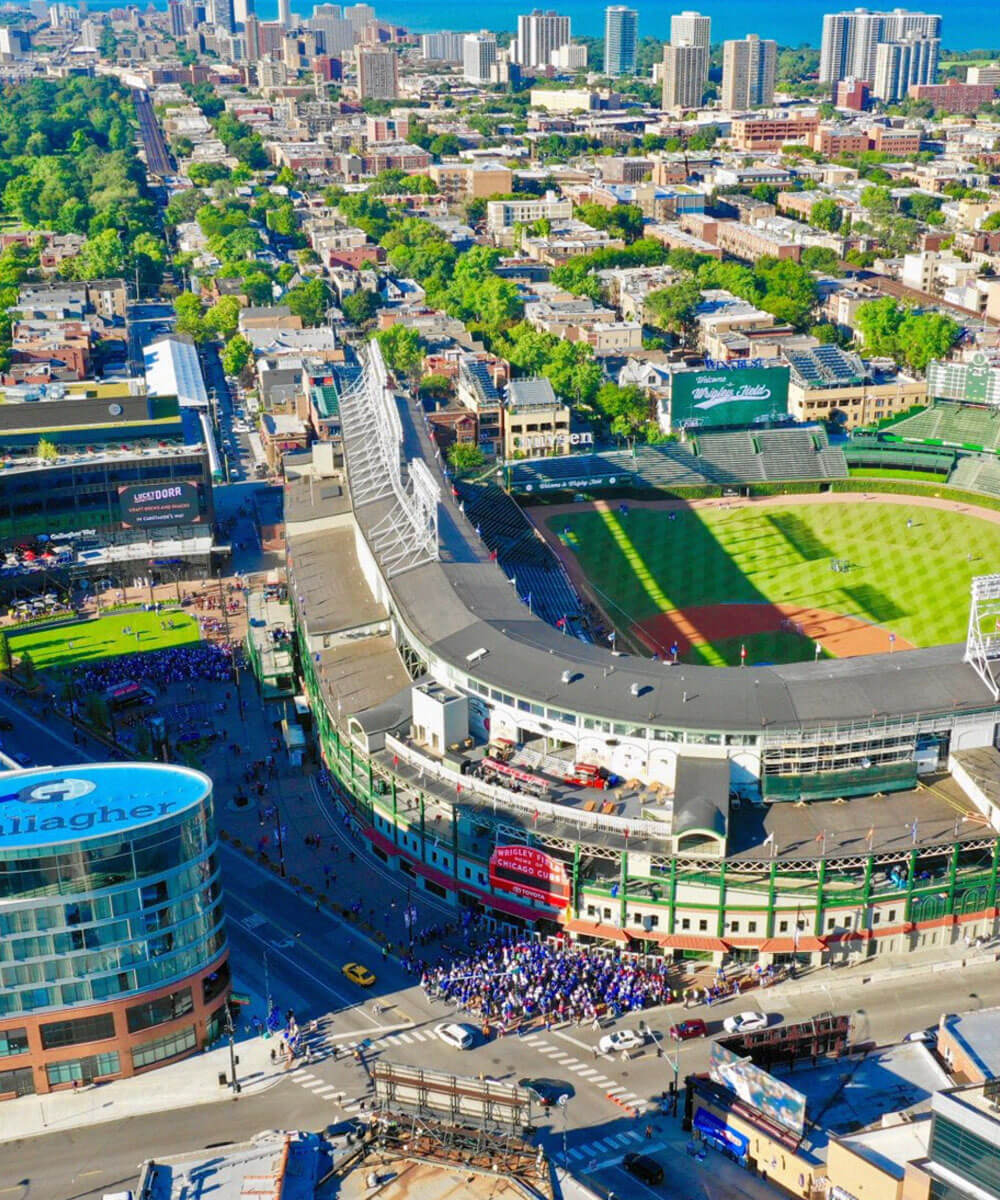 WRIGLEY FIELD EVENTS PRIVACY POLICY
Chicago Cubs Baseball Club, LLC and its affiliated entities (the "Company," "us" or "we"), has created this Privacy Policy to demonstrate our commitment to the privacy of our customers. The following discloses our information gathering and dissemination practices for all aspects of our business including those activities that are conducted both on-line and through offline means (i.e. other than via the Internet or other interactive or social media) and is applicable to www.wrigleyfieldevents.com and any url re-directing to the foregoing (collectively, the "Website") and its affiliated web-sites, as well as to the Company's off-line business activities.
1. Collection of Information "Personal Information" is personally identifiable information, such as your name, address, email address, telephone number(s), other location data, birth date, gender, occupation, employer, and other personal data as detailed in this Privacy Policy as well as other data that may be requested from and provided by you. In addition, at times, Personal Information may include passwords and payment card information. We collect Personal Information through a variety of means, including:
Requests for Information
Reservations;
Browsing Information
Surveys; and
Any other purpose that you consent to in your interactions with us
When you voluntarily provide us with Personal Information, either directly or through a third party source that has advised you of an intention to disclose that information to us, you thereby consent to its collection, use and disclosure by the Company in accordance with this Privacy Policy, subject to any uses and disclosures from which you have opted out.
2. Use of Personal Information. If you submit personal information to us, or to any third party acting on our behalf, we may use and share your information as set forth in this Privacy Policy and as disclosed when you first submit your information or as permissible under applicable law. We will not sell, lease, publish or share your personal information with or to anyone else, except as set forth in this Privacy Policy. The Company uses Personal Information for the following purposes:
To provide you with the goods, services and programs you have requested from us (together, the "Services") and to communicate with you in respect of the Services (including, for example, invoicing, changes/enhancements and renewals);
Transmit your payment card information and other personal information necessary to consummate an economic transaction directly to our payment card processing agent so that they may process your payment. Information collected by such payment processer and any successor payment processor is not subject to the provisions of this Privacy Policy, which means they may use your personal information for purposes other than contacting you about the event you are going to attend, unless you contact them and request otherwise. The Company has no control over the use of your personal information by any payment card processing agent and you agree that we are not liable for any use of your personal information by a payment card processing agent. If you have special preferences concerning use of your personal information by payment card processing agent, you must communicate your preferences directly to them;
To send you electronic communications, including emails about the Company, and its affiliated companies, communications applicable to your interactions with our Website, and about products, services, partners and affiliates when you attend an event, make a purchase, agree to rules or terms, or otherwise engage with us, including via our Website, to the extent the sending of such electronic communication is permissible under applicable law;
To use and share your information with our third-party survey partners to send you periodic surveys to help improve our services or offerings;
Unless you request otherwise, to provide you with Company-related marketing materials and information that may be of interest to you, including, for example, special offers, loyalty, membership rewards programs (or with a third party from which you may receive goods or services in connection with such a program), promotions and event news;
Unless you request otherwise, to provide you with marketing materials and information in respect of our corporate partners and/or sponsors, including, for example, special offers, promotions and event news; If you enter a contest or other promotion offered by the Company, to administer the contest or promotion, in accordance with its rules and applicable laws;
To satisfy other reasonable, legitimate business interests (such as collecting outstanding debts);
and Otherwise with permission from you.
3. Other Information Collected and Shared Within Our Services. Cookies, etc. We use and permit automatic methods such as cookies (small amounts of data including a unique string of characters sent to your browser or application by the Website and stored on your computer's/device's memory), web beacons/tags (technology used to track activity) or similar technologies, alone or in combination with Personal Information you choose to provide us. Examples of the information we collect and analyze using such methods may include: personal information as authorized by you, the Internet protocol address used to connect your computer or device to the Internet; email address; login name and password; operating system type, version and computer or device platform; purchase history. We use software tools to measure and collect session information, including page response times, download errors, length of visits to certain pages, page interaction information (such as scrolling, clicks and mouse-overs) and methods used to browse away from a page. We use and may allow third parties, such as those who provide services associated with our Services, to place cookies and store your preferences and other information to improve, deliver and customize our Service content offerings.
Third Party Cookies; Network Advertisers. We allow select third parties, such as those who provide payment card processing services, advertisements, content, social networking or provide other services associated with our Services, to set cookies, web beacons or similar technologies in certain locations within the Services or certain emails sent by us. Third party companies that manage and deliver advertisements to websites and applications such as ours are commonly referred to as "network advertisers." A permitted network advertiser may use cookies, web beacons or similar technologies to collect information about your interaction with our Services in order to customize certain advertisements and content delivered within our Services and on other websites within such network advertiser's ad network.
4. Disclosure of Personal Information. The Company will disclose your Personal Information to third parties and/or affiliates:
Where you have specifically given us your consent to disclose your Personal Information for a specified purpose;
Who are acting on our behalf as agents, suppliers or service providers, and solely to enable us to provide you with the goods, services, programs, contests, promotions and information that you have requested or otherwise consented to or to improve upon the foregoing. These entities act on behalf of the Company in these circumstances and are required to maintain the confidentiality of all such Personal Information;
With affiliated companies, for purposes of informing you of events and opportunities and to develop and customize products or services to better meet your needs and preferences and to offer you products and services;
As part of a corporate reorganization, merger, sale or amalgamation with another entity, or a sale of all of substantially all of the Company's assets. Personal Information will be among the business assets transferred in these circumstances; and To respond to valid subpoena or discovery request, investigate, prevent, or take action regarding illegal activities, suspected fraud, situations involving potential threats to the physical safety of any person, violations of any Company policies, or as otherwise permitted or required by law.
Aggregated Demographic Information. We may share aggregated demographic information with third parties. This information is not linked to Personal Information that can identify you or another individual person.
Retention of Personal Information. If you make a purchase using a credit card, we (or our designed payment card processing agent) will retain your credit card information for a length of time reasonably necessary to process a refund.
5. Security. The security of your Personal Information is important to the Company. We instruct our employees and agents with access to your Personal Information that it is to be used only in adherence with the principles set forth in this Privacy Policy and the laws applicable to each specific business. The Company and/or any of its affiliated companies within the Northside Entertainment group of companies assumes no liability for interception, alteration or misuse of information transmitted over the Internet.

6. Electronic Communications and www.wrigleyfieldevents.com. We will communicate with you by way of email and other forms of electronic communication only if you have consented to us doing so or if such electronic communications otherwise comply with applicable United States anti-spam laws.
www.wrigleyfieldevents.com utilizes email as a primary communication channel with users of the Website. By providing us with your email address, you grant the Company (and its agents and service providers), and other permitted parties in this Privacy Policy, permission to communicate with you via email for any purposes we determine to be relevant to your use of this Website or your relationship with us, including, but not limited to, system messages, product updates, service announcements and other marketing messages. You may opt out of receiving any marketing messages that we may send to you.
Users of the Website have the ability to unsubscribe from email communications via the link featured at the bottom of each Wrigley Field Events email. Please note: users are not able to unsubscribe from system messages, receipts, product updates and service announcements, which contain important information about service notices and responsibilities.
7. Other Information. No Spyware or Adware. We do not install any spyware or adware in connection with our Services, or distribute any commercial message, or authorize any third party to distribute any commercial message, by means of spyware or adware. "Spyware" or "adware" is any software which has been downloaded to or installed on an Internet user's computer or device, without the user's actual consent, and facilitates the distribution of any commercial message to the user. If you feel you may have spyware from another company installed on your machine, there are various anti-spyware/adware software applications available on the Internet to identify if this has occurred.
Our Security Practices. The account information associated with any of our Services is password protected for your privacy and security. You choose your password for any of our Services so the strength of that password is determined by you. We recommend that you choose a unique password and not share your password with anyone else. In certain areas, we use industry-standard SSL encryption to protect data transmissions.
Links. Our Services contain links to other websites and products operated by unrelated third parties. In addition, if you click on an advertisement within our Services, you may be directed to a web page within our Services or to a third-party website or product. We are not aware of or responsible for the privacy practices of third party websites or products, and we encourage you to read the privacy policies of every website and product that collects personally identifiable information from you. This Privacy Policy applies only to our Services, unless you are notified otherwise upon accessing any third party website or product, in which case the terms and conditions set forth in such notification will apply.
Your California Privacy Rights. Pursuant to California Civil Code Section 1798.83, California residents may request certain information regarding our disclosure of personal information to third parties for their direct marketing purposes. Any such disclosure made to a third party by us would be otherwise in accordance with the terms of this Privacy Policy. To make such a request please contact us as provided in Section 8, below.
Special Rules For Children. Federal law does not permit us to knowingly collect personal information from a child under the age of thirteen without the consent of that child's parent or guardian. We do not target our Website or our Services, products or merchandise for sale on our Website to children, and our Website does not seek to collect contact information from children under the age of 13. However, should we become aware that a child under the age of 13 has provided us with personal information, the Company will take the necessary steps to remove such information and terminate the child's account.
If you are under the age of 13, please do not, submit any personal information to our Website, or ask us to email you. If you are under the age of 18, you should get permission from a parent or guardian before you email our Website, contact our Website, attempt to use our Website, submit information to our Website, or ask us to email you. National Do Not Call List Registration on the National Do Not Call Registry (www.donotcall.gov) does not prevent telephone communications from companies with whom you have an existing business relationship. Therefore, if you wish to manage your telephone communications from the Company specifically, please contact us directly as provided for in Section 8 of this Privacy Policy, below.
8. Contact Us/Questions If you have questions or concerns about this Privacy Policy, if you want to review your personal information, close your account with us and have us delete the personal information in it, if you do not wish to receive offers or materials from the Company (about itself or about third parties), or if you want to limit the methods through which we communicate with you, you can contact us at: Chicago Cubs Baseball Club, LLC, Privacy Administrator, 1066 W. Addison Street, Chicago, IL 60613. Email: privacy@wrigleyfieldevents.com.
9. Terms of Use. Please also refer to our Terms of Use to view the terms and conditions governing the use of the Wrigley Field Events Services.
10. Notification of Changes If we decide to make an important change to this Privacy Policy, we will post a notification and link on the homepage of, or another visible location within, www.wrigleyfieldevents.com so that you can review the updated policy. If at any point we wish to use your personal information in a manner that is materially different from that stated at the time it was collected, we will notify you and give you the opportunity to indicate whether you consent to the proposed use.
Last Updated and Effective Date: June 9, 2023


Top