Terms Of Use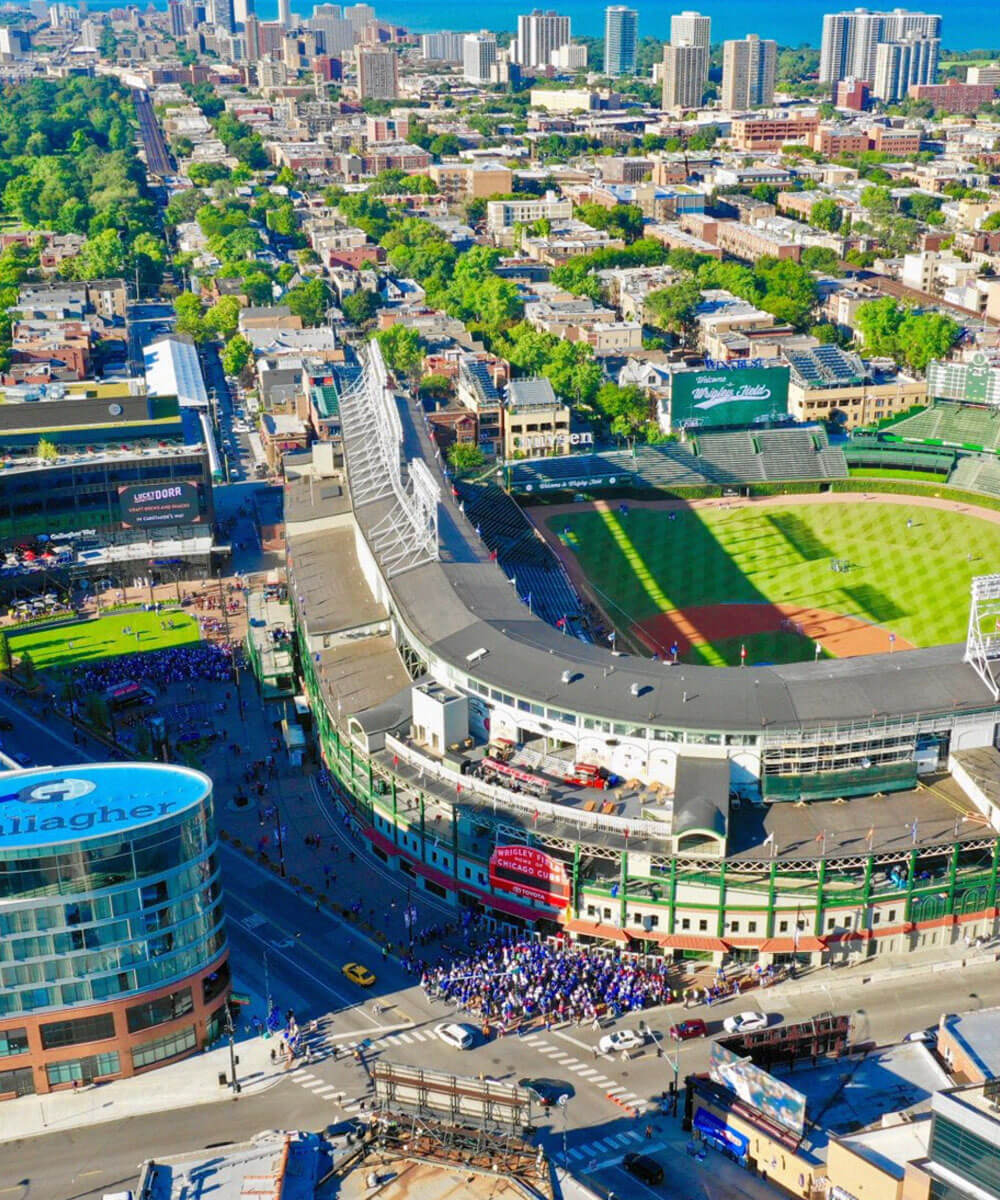 WWW.WRIGLEYFIELDEVENTS.COM TERMS OF USE
The following Terms of Use (this "Agreement") describes the terms and conditions under which the services of this www.wrigleyfieldevents.com website and any url redirecting to the foregoing (collectively, this "Website") are provided. By accessing this Website and using any service provided by this Website, including but not limited to viewing any of its content or making a purchase, or utilization of any resources, information, content, materials and results or output derived from such services or products on the Website, you expressly agree to be bound by this Agreement, including the terms of our Privacy Policy, and all applicable laws and regulations governing the use of this Website. In this Agreement, underlined terms serve as links to pages within this Website that contain important information concerning your use of our services. We encourage you to access and become familiar with these pages, including but not limited to our Privacy Policy as you read this Agreement. If you do not agree with this Agreement or Privacy Policy, then you are not authorized to use the Website.
The Website may revise and update these Terms of Use from time to time without notification to its users. Accordingly, we encourage our users to regularly check this Agreement for changes.
1. Introduction This Agreement, and use of the website, is an online service provided by Chicago Cubs Baseball Club, LLC, a Delaware limited liability company (sometimes referred to herein as the "Company", "we" or "our") with a principal place of business in Illinois. The website consists of event notifications, reservation management, event space overview, access to other resources, and related content provided by the Company and by third parties for businesses surrounding Wrigley Field.
This Website is subject to the terms and restrictions contained herein and is for private personal use by consumers only ("Users" or "you"). Any other use or attempt to use this Website, or any of the services provided through this Website for commercial purposes (including the purchase of tickets for the purpose of resale), directly or indirectly, by you or by a third party is strictly prohibited.
2. Changes in Terms and Conditions The Company reserves the right to modify, suspend, or discontinue any aspect or feature of this Website, or this Agreement at any time. This includes but is not limited to, the right to change or discontinue any service provided by the Company, content displayed on this Website, hours of availability, and equipment needed for access or to use this Website, at any time. The Website shall not be liable to you or any third party for any modification, suspension, or discontinuance. The failure of The Website to exercise or enforce any right or provision of these Terms of Use shall not constitute a waiver of such right or provision. Unless expressly stated otherwise, any new features that augment or enhance the current services provided though this Website also will be subject to the provisions of this Agreement.
3. Use of This Website This Website is the property of the Company and your access to this Website is with our permission. Any unauthorized access or use will be, among other things, a trespass, and we reserve the right to pursue our legal rights for any unauthorized access or use of this Website, including seeking civil remedies and equitable relief to the fullest extent possible, as well as referral of matters to appropriate law enforcement agencies.
You are prohibited from doing any act that has the effect of undermining the integrity of our system, this Website, our services and the method by which we provide our services to users.
As a material term of this Agreement, you expressly agree that you shall NOT do any of the following:
Deploy or facilitate the use or deployment of any robot, spider, scraper or any other automated means, method or device to view, select or copy any content from this Website;
Deploy or facilitate the use or deployment of any script, routine, program or any other automated means, method or device with respect to this Website for any other purpose, including but not limited to booking payment purposes;
Deploy or facilitate the use or deployment of any program, system, means, method or device, for any purpose that places an unreasonable, unnecessary or excessive demand or load on this Website, its hardware and connections, or prohibits, denies or delays access to this Website by others;
Reserve a space to any event offered through this Website for the purposes of reselling that space, except as permitted by applicable law. If we determine that you are purchasing an irregularly large number of seats to an event or multiple events, you may be required to contact our sales office in order to execute a group license. In the alternative, we reserve the right to presume that you are purchasing such seats for resale purposes and at our sole election, we will cancel your transaction(s) and restrict your access to this Website;
Download or copy any content displayed on this Website, including without limitation any photographic imagery, Company or third-party trademarks, for purposes other than preserving information for your personal use;
Establish any deep link or other connection to any specific page or pages of this Website other than the home page, without Company's prior written permission; or
Deploy or facilitate the use or deployment of any automatic or manual device, process or means to circumvent, avoid or defeat any of our security measures or systems.
You expressly agree that you will use this Website only for lawful purposes. You will not post or transmit through this Website any material which: (i) violates or infringes in any way upon the rights of others; (ii) is unlawful, threatening, abusive, defamatory, invasive of privacy or publicity rights, vulgar, obscene, profane or otherwise objectionable; (iii) encourages conduct that would constitute a criminal offense, give rise to civil liability or otherwise violate any law; (iv) creates or attempts to create any liability of the Company, (v) contains advertising or any solicitation with respect to products or services, unless we have approved such material in writing, in advance of its transmission; (vi) introduces any program, executable file or routine (such as a worm, Trojan horse, cancelbot, time bomb or virus) into our system for any purpose, irrespective of whether any such program or routine results in detrimental harm to our system or our data; or (vii) threatens the continuous services of our ISP's, suppliers and vendors.
Any conduct by you that in our sole discretion restricts, inhibits, or interferes with any other consumer from using or enjoying this Website is expressly prohibited.
4. Links to Other Websites We may, from time to time, display icons, graphic or textual links to other websites, or display selected pages of other websites not affiliated with The Website. Any content, product or service provided by other websites is under the exclusive control of such third parties and not the Company. Your access to and use of any other Website, and any transaction in which you engage on any other website, is subject to the applicable user agreements and privacy policies of that website. By access and use of any other website, you expressly disclaim all liability of the Website and the Company with respect to your, or third party's actions on these other websites. The Company reserves the exclusive right and sole discretion to add, decline or remove, without notice, any icon or link to another website.
5. Electronic Communications By making reservations, purchases, or otherwise communicating with us electronically, you consent to receive electronic communications from us regarding any purchase you make or any event to which you have purchased tickets. By consenting to accept electronic communications from us, you also agree that all agreements, disclosures and notices, including any updates to this Agreement, may be provided to you electronically and that an electronic communication from us satisfies any legal requirement that a communication be in writing.
In addition, when you make a reservation or purchase, you agree that you have established a business or personal relationship with the Company and you consent to receive email notices or advertisements from us in the future about events, products or services that may be of interest to you. If you are not interested in receiving email notices or advertisements from us, you should unsubscribe. Please consult our Privacy Policy for more information.
6. Ownership Intellectual Property Other than third party materials that the Website uses, the Website owns all Website software, design, text, logos, designs, images, photographs, illustrations, audio clips, video clips, artwork, graphic content, and other copyrightable elements, including the selection and arrangement thereof, trademarks, service marks and trade names (collectively, the "Website Elements"). The Website Elements are protected, without limitation, pursuant to U.S. and foreign copyright and trademark laws. You agree not to reproduce, modify, create derivative works from, display, perform, publish, distribute, disseminate, broadcast or circulate any Website Elements to any third party (including, without limitation, the display and distribution of the Website Elements via your own or a third party website) without the Company's express prior written consent. You further agree that you will not disassemble, decompile, reverse engineer or otherwise modify any software included in the Website Elements. Any unauthorized or prohibited use may subject the offender to civil liability and criminal prosecution under applicable federal and state laws. The Company makes no, and expressly disclaims all, representations and warranties regarding your use of the Website Elements and whether such use infringes rights of third parties.

Nothing contained on this Website should be construed as granting, by implication, estoppel, or otherwise, any license or right to use any Trademark displayed on this Website without the Company's written permission. Your use of the Trademarks displayed on this Website, except as provided in these Terms of Use, is prohibited.
7. Disclaimers, Limitation of Liability, Releases YOU AGREE THAT USE OF THIS WEBSITE IS AT YOUR OWN RISK. YOU WILL BE RESPONSIBLE FOR PROTECTING THE CONFIDENTIALITY OF YOUR PASSWORD, IF ANY. NEITHER THE COMPANY, ITS PARENT COMPANY, ITS MANAGEMENT COMPANY, ITS PAYMENT CARD PROCESSING AGENT, NOR ANY OF THEIR RESPECTIVE OFFICERS, DIRECTORS, MEMBERS, MANAGERS, EMPLOYEES, AGENTS, THIRD PARTY CONTENT PROVIDERS OR LICENSORS (COLLECTIVELY THE "RELEASED PARTIES"), REPRESENT OR WARRANT THAT YOUR USE OF THIS WEBSITE WILL BE UNINTERRUPTED OR ERROR FREE; NOR DO THEY MAKE ANY WARRANTY AS TO THE RESULTS THAT MAY BE OBTAINED FROM USE OF THIS WEBSITE, OR AS TO THE ACCURACY, RELIABILITY OR CONTENT OF ANY INFORMATION, SERVICE, OR MERCHANDISE PROVIDED THROUGH THIS WEBSITE. THIS WEBSITE IS PROVIDED ON AN "AS IS" BASIS WITHOUT REPRESENTATIONS OTHER THAN THOSE IN THIS TERMS OF USE DOCUMENTATION, OR WARRANTIES OF ANY KIND, EITHER EXPRESS OR IMPLIED, INCLUDING, BUT NOT LIMITED TO, WARRANTIES OF TITLE OR IMPLIED WARRANTIES OF MERCHANTABILITY OR FITNESS FOR A PARTICULAR PURPOSE, OTHER THAN THOSE WARRANTIES WHICH ARE IMPLIED BY AND INCAPABLE OF EXCLUSION, RESTRICTION OR MODIFICATION UNDER THE LAWS APPLICABLE TO THIS AGREEMENT. THE DISCLAIMERS CONTAINED IN THIS AGREEMENT APPLY TO ANY DAMAGES OR INJURY CAUSED BY ANY FAILURE OF PERFORMANCE, ERROR, OMISSION, INTERRUPTION, DELETION, DEFECT, DELAY IN OPERATION OR TRANSMISSION, COMPUTER VIRUS, COMMUNICATION LINE FAILURE, THEFT OR DESTRUCTION OR UNAUTHORIZED ACCESS TO, ALTERATION OF, OR USE OF RECORD, WHETHER FOR BREACH OF CONTRACT, TORT, NEGLIGENCE, OR UNDER ANY OTHER CAUSE OF ACTION. YOU SPECIFICALLY ACKNOWLEDGE THE RELEASED PARTIES ARE NOT LIABLE FOR THE DEFAMATORY, OFFENSIVE OR ILLEGAL CONDUCT OF OTHER USERS OR THIRD PARTIES AND YOU ASSUME THE RISK OF INJURY FROM ANY OF THE FOREGOING.
IN NO EVENT WILL THE RELEASED PARTIES, OR ANY PERSON OR ENTITY INVOLVED IN CREATING, PRODUCING OR MAINTAINING THIS WEBSITE BE LIABLE FOR ANY DAMAGES, INCLUDING, WITHOUT LIMITATION, DIRECT, INDIRECT, INCIDENTAL, SPECIAL, CONSEQUENTIAL OR PUNITIVE DAMAGES ARISING OUT OF THE USE OF OR INABILITY TO USE THIS WEBSITE. BECAUSE SOME JURISDICTIONS DO NOT ALLOW THE EXCLUSION OR LIMITATION OF INCIDENTAL OR CONSEQUENTIAL DAMAGES, THE ABOVE EXCLUSIONS OF INCIDENTAL AND CONSEQUENTIAL DAMAGES MAY NOT APPLY TO YOU, BUT WILL APPLY, IN ANY EVENT, TO THE MAXIMUM EXTENT POSSIBLE.
IN ADDITION TO THE TERMS SET FORTH ABOVE, THE RELEASED PARTIES WILL NOT BE LIABLE REGARDLESS OF THE CAUSE OR DURATION, FOR ANY ERRORS, INACCURACIES, OMISSIONS, OR OTHER DEFECTS IN, OR UNTIMELINESS OF, THE INFORMATION CONTAINED WITHIN THIS WEBSITE, OR FOR ANY DELAY OR INTERRUPTION IN THE TRANSMISSION THEREOF TO ANY USER, OR FOR ANY CLAIMS OR LOSSES ARISING FROM USING THIS WEBSITE. NONE OF THE FOREGOING PARTIES WILL BE LIABLE FOR ANY THIRD-PARTY CLAIMS OR LOSSES OF ANY NATURE, INCLUDING, BUT NOT LIMITED TO, LOST PROFITS, PUNITIVE OR CONSEQUENTIAL DAMAGES.
ANY LIABILITY THAT THE RELEASED PARTIES MAY HAVE TO YOU UNDER ANY CIRCUMSTANCES WILL BE LIMITED TO THE GREATER OF (A) THE TOTAL AMOUNT EXPENDED BY YOU WITH US DURING THE TRANSACTION GIVING RISE TO THE CLAIM; OR (B) $100. IF YOU ARE A RESIDENT OF A STATE THAT DOES NOT ALLOW THE EXCLUSION OR LIMITATION OF INCIDENTAL OR CONSEQUENTIAL DAMAGES, THEN THE FOREGOING PROVISION WILL NOT APPLY TO YOU.
8. Equipment You will be responsible for obtaining and maintaining all telephones, Internet connections, computer hardware, and other equipment needed for access to and use of this Website and for any and all charges related thereto.
9. Trademarks The Website takes great care in the development and protection of its trademarks, service marks and logos and reserves all rights of ownership of its trademarks. Nothing contained in this Website should be construed as granting by implication, estoppel, or otherwise, a license or right to use any trademarks displayed on this Website without the prior written permission of the Company.
10. Copyright Compliance To ensure compliance with the Digital Millennium Copyright Act ("DMCA") The Website will take action on receipt of notice of alleged copyright infringement. If you are a copyright owner or representative of the owner and believe that a user has submitted or uploaded material that infringes upon your United States copyrights, you may submit notification in accordance to the DMCA by providing The Website with the following information in writing:

identification of the copyrighted work you claim has been infringed;
identification of the claimed infringing material and information sufficient to permit us to locate the material on this Website (such as the URL(s) of the claimed infringing material);
information sufficient to permit us to contact you, such as an address, telephone number, and, if available, an Email address;
a statement by you that you have a good faith belief that the use is not authorized by the copyright owner, its agent, or the law;
a statement by you, made under the penalty of perjury, that the above information in your notification is accurate and that you are the owner of an exclusive right that is allegedly infringed or are authorized to act on the owner's behalf; and
• your physical or electronic signature.
Please send all written correspondence of alleged infringements to: Chicago Cubs Baseball Club, LLC, Privacy Administrator, 1060 W. Addison Street, Chicago, IL 60613. Email: privacy@wrigleyfieldevents.com
11. Our Content A portion of the content for this Website is supplied by third parties. Any opinions, advice, statements, services, offers, or other information or content expressed or made available by third parties, including information providers, are those of the respective authors or distributors. Neither the Company nor any third-party provider of information guarantees the accuracy, completeness, or usefulness of any content, nor its merchantability or fitness for any particular purpose.
12. Remedies Without limiting any other remedies that we may have available at law or in equity, upon our confirmation that you have breached any provision of this Agreement or the agreements referenced in this Agreement, we may, without notice, cancel any pending transactions you may have with us and restrict or deny your access to our Website and services, including any services we provide through channels other than the Internet. You acknowledge and agree that monetary damages may not be a sufficient remedy to the Company for a breach of this Agreement and you consent to injunctive or other equitable relief for any alleged breach.
13. Binding Arbitration Any dispute relating to or arising from your purchase of any tickets or other merchandise through this Website; or arising under this Agreement, in which monetary damages are being sought, will be resolved by binding arbitration conducted in accordance with the Commercial Rules of the American Arbitration Association. To the extent practicable, hearings will be conducted via telephone or other electronic means intended to facilitate a forum in which a hearing may be had. Any in-person arbitration proceeding will take place in Chicago, Illinois, USA. Upon conclusion of the arbitration, any court having jurisdiction over the matter may enter judgment on any award issued in the arbitration. Any legal proceeding will be adjudicated by a court sitting in Chicago, Illinois, and you and the Company expressly consent to the personal jurisdiction of the State and Federal courts sitting in Chicago, Illinois.
14. Indemnification You agree that you will, at your expense, indemnify, defend, settle, and hold the Released Parties harmless from and against all claims and expenses, including attorneys' fees, arising out of your use of this Website, including but not limited to any use of this Website that is not authorized by this Agreement. In addition you will pay any judgment awarded against us or any settlement agreed to by you, and any authorized expenses incurred by us. The Company reserves the right to assume the exclusive defense and control of any matter otherwise subject to indemnification by you, in which event you will assist and cooperate with The Company in asserting any available defenses.
15. Notices All notices regarding any matter pertaining to this Agreement, or the policies referenced herein, including any notice of claim, summons or subpoena will be given by first class mail, return receipt; or third party national overnight courier, and sent to: Chicago Cubs Baseball Club, LLC, Privacy Administrator, 1060 W. Addison Street, Chicago, IL 60613. Email: privacy@wrigleyfieldevents.com
Notice will be deemed effective on the date of delivery according to the return receipt or third party courier delivery confirmation. In addition, the Company may provide notice to you by either email or by third party national overnight courier, sent to the physical or email address you provided to us during any transaction conducted with us. Notice will be deemed effective 24 hours after sending of an email (unless returned due to an invalid email address) or on the date of delivery according to the return receipt or third party courier delivery confirmation.
16. General This Agreement is to be construed in accordance with the laws of the State of Illinois, without regard to its conflict of laws provisions. This Agreement, as updated from time to time, constitutes the entire agreement between us, with respect to the terms and conditions of use of this Website and supersedes all previous written or oral agreements between us. If any provision of this Agreement is held to be invalid or unenforceable, such provision will be struck and the remaining provisions will be enforced. The section headings in this Agreement are for reference purposes only and in no way limit or describe the scope of a particular section. Our failure to enforce any breach of this Agreement by you or others does not constitute a waiver of our right to enforce the terms of this Agreement in the future for a similar breach.
Last Updated and Effective Date: June 9, 2023
Top